Essence Oils: Pure Ingredients, Pure Results
Radiantly healthy, glowing skin is what we all want, & Nature has all the answers.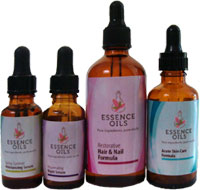 The Essence of Beauty is Simple, Clean, and Natural.
Our line of Essence Oils products are formulated based on the fact the body desires both rhythm and variation.  Think of our foods that we eat, we vary them from season to season based on what mother Earth provides, and it is no wonder that when we eat the same foods everyday, we tend to develop intolerances to them.  Similarly, Essence Oils builds in this need for rhythm and variety.  Enjoy our oils, good food for your skin.
Spring–Summer Moisturizing Serum
Wonderfully soothing, and hydrating serum, that delivers a veil of moisture and protection for the skin. More….
Fall-Winter Moisturizing Serum
This emollient and nourishing formula is an excellent blend for skin protection, while making the skin smooth, soft, and conditioned. More….
Rejuvenating Night Serum
This beautiful, rich-textured tonic is one of the most healing and soothing treatments, perfect for your night time skin care ritual. More….
Hair and Nail Formula
A miracle formula for restoring strength and beauty to the hair and nails. This specially-formulated, nutrient-rich blend will work wonders on your hair and nails. More….
Acute Skin Care Formula
When your skin is significantly inflamed or irritated, our Acute Skin Care Formula can help protect and soothe your skin back to health. More….
Order online or call: 905-597-7201